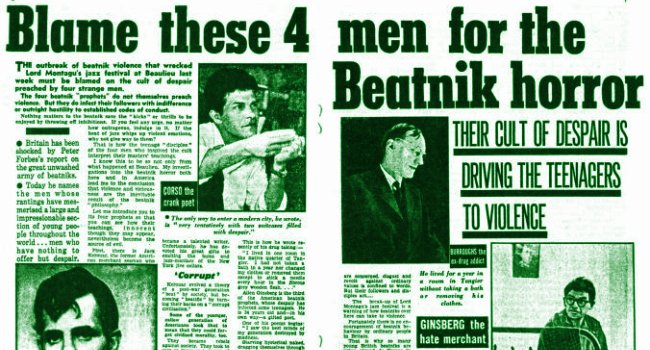 It's Monday morning after a pretty fun weekend. I stayed in on Saturday night to watch the Deontay Wilder fight and to get a good night's sleep before my show at Mad Donna's last night. I had a ball at the East Nashville Songwriter's club, sharing the stage with Rich Mahan and Lauren Farrah. Jean Paul Lilliston and I started the night off with a seven song set including newish additions like "The Wicked" and "Faraway Sound," and throughout the show everybody kept track of the Blood Moon eclipse which was happening right outside of Mad Donna's loft's east side windows. During the day yesterday I was mostly taking it easy, reading lots of articles through Flipboard when I came a across this Beat treasure trove at Open Culture…
Plenty of us get tuned in to the Beats through print — maybe a yellowed copy of Howl, a mass-market Naked Lunch, a fifth- or sixth-hand On the Road — but sometimes the verse or prose that so thrills us on those pages fairly demands to be spoken aloud, preferably by the Beat in question. That may have proven a tricky desire to fulfill in decades past, but now Spotify has made it nearly effortless to hear the Beats whenever we like: you can find over eighteen hours of material on a playlist called, straightforwardly enough, The Beats.
These 249 tracks include not just figures like the previously alluded to Allen Ginsberg, William S. Burroughs, and Jack Kerouac, but other beloved Beats such as Gregory Corso, Peter Orlovsky — and Charles Bukowski…
Click the Open Culture link above to access the audio cache. In the meantime, here's Ginsberg reading an LSD-inspired poem to television host William F. Buckley…
Stay Awake!
Please subscribe to my YouTube channel where I archive all of the videos I curate at Insomnia. Click here to check out more book posts.