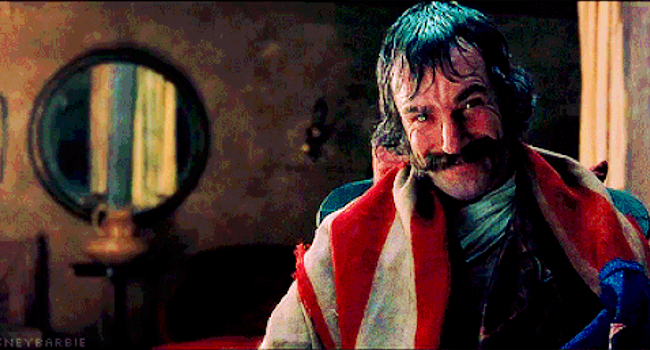 When Martin Scorsese's Gangs of New York debuted in 2002, I didn't go to see it right away, and when I finally did I remember feeling like it seemed sort of silly, and that Cameron Diaz was terrible. Diaz is still a weak link for me, but a recent article on Medium got me interested in watching the film again, and revisiting its themes of race, anti-immigration, corrupt politics, and the specter of "foreign influence" through the lens of America in 2017. It's a great piece by Daniel Suarez. Here's a bite…
A few days ago I re-watched Gangs of New York, and it brought home to me something relevant to our present political situation: America's divisions on immigration, race, class, religion, and 'foreign influences' have always been with us. In fact, those divisions have been far worse in the past. Nonetheless, we still survived as a nation, moved beyond our instinctive fears, and achieved remarkable things together.
Americans might not like to hear it, but throughout our history we have seldom lived up to our rhetoric on liberty and justice. From the outset we were an imperfect experiment in democracy (with slavery, genocide against indigenous people, civil rights violations, limited suffrage). Given our differences, America was constantly at risk of imploding or exploding.
That we are here at all is a testament to the many activists and idealists who ignored the tide of human history, ignored their personal safety, ignored our longstanding ethnic and religious hatreds, our class divisions, and more — and urged us toward our professed ideals. Every advance we have made as a nation can be attributed to the greater openness and diversity they championed in the face of intimidating odds.
This is on full display in Gangs of New York — but you have to look closely to see it.
Read the rest of this illuminating article at the link above — trust me if you are having a panic attack about the end of democracy this will give you some needed perspective. This YouTube link isn't the best way to enjoy a movie that I've come to love more on every viewing, but it's enough to see that we've come a long way even if we still have a long way to go.
Dead Rabbits, forever!
In celebration of its 15th birthday, here's the film…
Stay Awake!
Please subscribe to my YouTube channel where I archive all of the videos I curate at Insomnia. Click here to check out more Music posts.